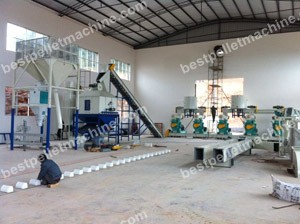 Biomass pellet mill plant is a complete production line to produce biomass fuel pellets. There are many biomass pellet plants all over the world, like famous New England Wood Pellet, American Pellet Company, Biomass Power Louisiana LLC, etc.
It is in fact very promising and profitable to invest into biomass pellet mill plants. In consequence, many countries where there is plenty of forestry waste or crop waste are establishing pellet mill plants now.
We can receive tens of inquiries demanding our biomass pellet mill plants for wood, bagasse or palm fiber every day. Some require small capacities like several hundreds kgs per hour, while others demand larger capacities like several tons per hour.
Some of our customers who have put their pellet plants into production have regular supply of wood waste since they own furniture factories. As a result, they are not short of sawdust and wood shavings. Their wood pellet mill plant usually include dryer (to dry the sawdust until its moisture content reaches 8%-12%), conveyor, wood pellet mill, pellet cooler and pellet packing machine since they often produce pellets for sale.
| | | |
| --- | --- | --- |
| | | |
| Sawdust | EFB fiber | Bagasse |
Some other customers have plenty of EFB (empty fruit bunch from palm) since they own palm oil mills. In consequence, they want to make EFB pellets to take advantage of this waste EFB. EFB is also a great source for fuel pellets making since it contains much fiber. But because it is too fibrous, most pellet mill plant suppliers do not have such pre-processing equipment for it. But through years of experiments, our company has developed the crushing machine which is dedicated for EFB. Now we have built some EFB pellet plants in Serbia.
There are also many customers who have sugarcane bagasse. So they build bagasse pellet mill plants to make bagasse pellets and supply the power plants (for power generation). Bagasse pellet is not considered as a good kind of commercial pellet, but to be used In power plants it will be a good replacement to coal and also very economical.
As a matter of fact, many other biomasses like peanut shell, alfalfa, wheat straw, cotton stalk, etc. are also good source for pellet making, but those are always small scale pellet mill plants. Even so, if you have large quantity and regular supply of such biomass raw materials, you can also build a large biomass pellet mill plant.