This drum dryer is often used in pellet production plant. If the material moisture content is too high, it need to be dried and then for granulation.
This drum dryer consists of feeding system, main body, ducting system and collector system. It need match stove.
Smoke and air with high temperature produced by the stove are the heat source medium. When material enters the drum through the feeder, heat exchange between material and the hot air begins. Material will move along the bent plat on the wall of the drum by the effect of rolling and introduced air, which is called the concurrent flow drying technology.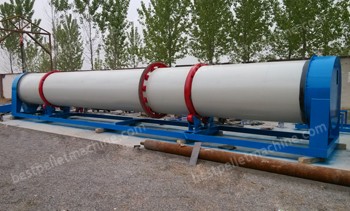 Technical Parameters
| Model | Φ0.8×10m | φ1.2×10m | φ1.5×11m | φ1.8×11m | φ1.8×14m | Φ2.0×15m |
| --- | --- | --- | --- | --- | --- | --- |
| Air fan power | 15kw | 22kw | 30kw | 45kw | 45kw | 45kw |
| Inner diameter | 800mm | 1200mm | 1500mm | 1800mm | 1800mm | 2000mm |
| Length | 10m | 10m | 11m | 11m | 14m | 15m |
| Temperature of inlet air | 180-350℃ | 180-350℃ | 180-350℃ | 180-350℃ | 180-350℃ | 180-350℃ |
| Temperature of outlet air | 90-100℃ | 90-100℃ | 90-100℃ | 90-100℃ | 90-100℃ | 90-100℃ |