Application of 500-700KG/H Biomass Pelletizing Plant:
Large farmer, forester has big land which can rise agro waste or waste braches, sawdust;
Middle furniture manufacturers;
Middle saw mill
This is a complete pellet plant and can be designed in flexible way. The end users have two options: one is using the RING DIE PELLET MILL, the other is using the FLAT DIE PELLET PRESS.
We'll make the right designing according to customer's condition.
Example Biomass Pelletizing Plant Flowchart: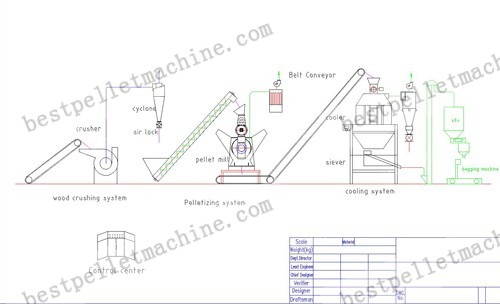 Click to see larger image
Finished pellets parameters (take wood pellets for example):
Pellet diameter: φ3-12mm, length: 10-30mm
Calorific value: 4000-4500 kilocalories
Ash content: ≤6%
Density: 1.1-1.3 ton/m3
Moisture content: ≤8%
Compression ratio: 1:7 (7m3 raw materials can produce 1m3 pellets)
Compared to petrol: 2 kilograms of wood pellets equal 1 liter petrol
The main equipments in this line: