For example:The material is pine woods.
| | | |
| --- | --- | --- |
| | | |
| Pine Wood | Pine Chips | Pine Wood Sawdust |
Usually this wood pellet plant process should be from skiving machine/chipper as a first step, and then enter the chipper and hammer mill to get the right size (usually about 3 mm). For large-scale drying process of single layer/triple layer dryer often use such wood pellet plant to dry pine moisture content till it is reduced to 12%, which is suitable for pelletizing.
The Wood Pellet Plant Flow Chart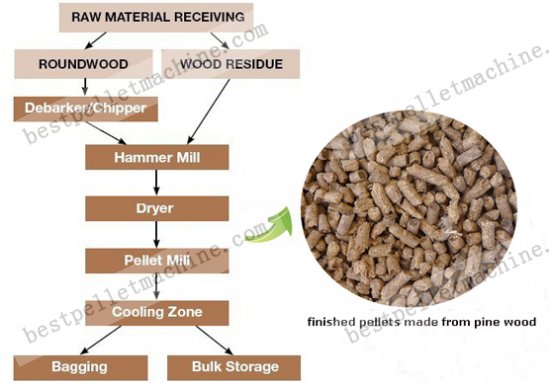 Key Pellet Machine of Wood Pellet Plant
| Model | Capacity (kg/h) | Power (kw) | Dimension (mm) | Weight (kg) |
| --- | --- | --- | --- | --- |
| BPM42 | 1000-1500kg/h | 90+1.5+3kw | 2600*1000*2000mm | 3400kg |
| BPM508 | 1500-2000kg/h | 110+1.5+3kw | 2990*1200*2410mm | 4500kg |

What are the requirements for the wood pellet plant?
1. The wood raw material must be dried to its moisture content reach 8-12%. If the moisture content is too high, the raw material will block the pellet mill die holes, and decrease the hour productivity as a result; ultimately the wood pellet mill die will easily rust. But if the raw material is too dry, wood pellets will be hard to form, which will also decrease wood pellets yield or quality (pellets will be loose but not dense). So the drying process plays a very important role in the wood pellet plant, and you'd better not save cost in this process. However, if you really want to cut down the drying cost, you can dry the raw material by air drying. But note this is only suitable for small capacity.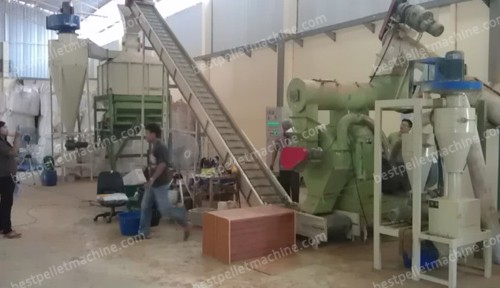 2. The wood pellet mill must be high quality and reliable. We know that building a large capacity wood pellet plant will spend a lot of money, which is almost unaffordable for some investors. To decrease your budget, you can choose the cheap pellet mill instead of the expensive ones from Europe. But the wood pellet mills in China also vary in quality.
As one of the leading wood pellet mill manufacturers in China, GEMCO can offer you the most cost-effective pellet mills with reasonable price (however not the lowest).The successful wood pellet plants abroad can prove our strength.
3. Other components like hammer mill, cooler and bagging/packing machines, etc. can save you some cost for the wood pellet plant. But if you have sufficient funds, it is advised to choose the better ones, since they perform much better.
In brief, if you are planning to set up a wood pellet plant, feel free to contact us to get the free customized plans at any time!