The BPL300/400 small biomass mobile pellet plant is designed as a convenient mobile pellet making line. All of its necessary processing equipments are arranged on one base, so it is easily moved than traditional pellet plants. This suitable for the farmer or forester who want to change the waste around into solid fuel. If you have willing to expand producing capacity in the future, we recommend the Model BPL300/BPL400 that produces 250-350/350-450kg/h.
(Click the picture to see a larger file.)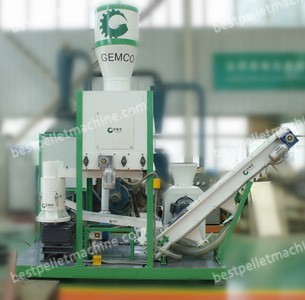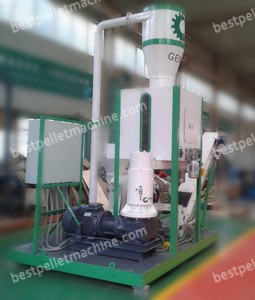 Application of mobile pellet plant:
This movable small pellet plant can be used biomass material for sawdust, wood chips, straw, stalk, peanut shell, sunflower husk, and so on.
Composition of mobile pellet plant:
This small mobile biomass pellet plant is composed of hammer mill, cyclone separator, bin, screw conveyor, ZLSP300B R-type (or ZLSP400B R-type) pellet mill, vibrating screen, scraper conveyor, electric cabinet, and foundation frame.
The pelletizing plant integrates the processing functions of crushing, pelletizing, cooling, transporting, etc. into one complete plant, which greatly improves the efficiency and lowers production cost.
Technical data
| | |
| --- | --- |
| Model | BPL300/400 |
| Pellet diameter | 6-12mm |
| Capacity | 250-350kg/h / 350-450kg/h |
| Pellet density | 1.1-1.3t/m3 |
| Moisture content of raw material | ≤8% |
| Overall size (L*W*H) | 3500*1960*3500mm |
Flowchart

See the video of mobile pellet plant

Features of mobile biomass pellet plant:
1. One 20' container is enough for all.
Lowering the maximum height of the complete plant, this makes encasement and shipment much easier.
2. Easy and safe to operate.
Four strong magnetic separating blocks are applied to remove the metal scraps from the raw material to prevent damages.
Two safety locks are adopted on both sides of the shell. The position switch is installed on the right side of the shell beside the safety lock.
All wires are protected by steel layer embedded soft pipe.
One worker is enough to control and operate the whole plant, lowering your labor cost efficiently.
Two emergency stops are adopted to guarantee safe operation.
| | | |
| --- | --- | --- |
| | | |
| Hammer mill | ZLSP300B R-type pellet mill | Storage bin |
| | | |
| Electric control carbinet | Vibrating sieve | Scraper conveyor |

3. Considerate design with dust proof technology
The powerful pneumatic conveying system is highly efficient; using the minimum power with perfect performance for crushed material transportation, powder collection at vibrating sieve, pellet cooling at scraper conveyor and dust control.
Control Board for Frequency Conversion Speed Controlled Motors, with dust prevention.
Pelletizing chamber is covered, preventing the dust swirl in the air.
Five positioning joints at the end of the conveyor, which is easily for users to adjust the height and angle of the conveyor.
4. All electric components adopt High Quality and Original Schneider Electric Brand to assure safe working.
If you want to see more details and pictures of this BPL300 or BPL400 small movable biomass pellet plant, please contact us at any time!