Different from other pellet production plants, this biomass pellet production plant utilizes flat die pellet mill as main machine. Compared with ring die pellet mill, flat die pellet mill is small in capacity, compact in size and low in cost. If you require small productivity, the flat die pellet mill is your ideal choice.
This convenient flat die biomass pellet production plant that produces 200-500kg/h can meet the family, small plant or farm use. It belongs to small biomass pellet complete plants.
Sample Plate of Biomass Pellet Production Plant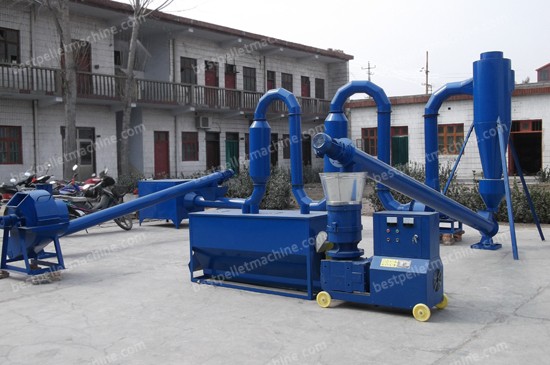 Application:
This biomass pellet production plant can process many kinds of raw materials such as
groundnut-shell, sugarcane biogases, caster shells/stalk, saw dust, coffee husk, paddy straw, sunflower stalk, cotton stalks, tobacco waste, mustard stalk, jute waste, bamboo dust, tea waste, wheat straw , palm husk, soybeans husk , coir pitch
.
Composition:
Small crusher/hammer mill, conveyor, airflow dryer, flat die pellet mill, cooler, and other auxiliary parts.
Note: all the components can be chosen or taken out according to your needs.
Pellet production plant process
Raw material preparation: Most of the biomass raw materials (expect sawdust) does not have the right size for pelletizing (2-5mm in diameter). As a result, these materials shall be first pulverized into required size. For wood materials like wood chip, we may need the crusher; but for soft materials like straw, the hammer mill is suitable.
Raw material drying: Then the crushed biomass shall be dried, since most of the time they contain much moisture. The airflow dryer is efficient in drying small capacity biomasses.
Pelletizing: This 200-500kg/h pellet production plant adopts flat die pellet mill as pelletizing part because of its small capacity. The capacity and model in fact is determined by user demand. Tell us your raw material and capacity needed and we can suggest the right one. You do not have to add binder to the raw material because the great heat inside pellet mill can soften the lignin in biomass, and lignin will bind them together.
Pellet cooling: the cooler is also a sieving machine to screen the biomass pellets and get rid of broken ones and unformed powder. After cooling, the pellets can be packed for storage, transportation or sale.
We give a full set of services, including consultation on pellets technologies and planning of manufacture, delivery, installation, guarantee and after guarantee service, maintenance with spare parts.
Feel free to contact us for the pellet production plans and any technical probelms!