Ring die pellet mill is used to produce cheap cooking fuel pellets from such wood waste of eucalyptus, pine, birch, poplar, fruit tree, bamboo or crop waste like stalk or straw. The pellets are widely used in stove, boiler, gasification furnace, biomass power plants, etc.
What are the features of biomass ring die pellet mill?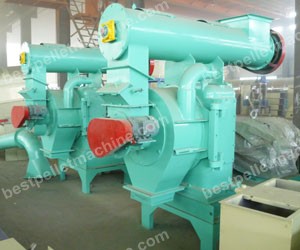 1. It has large capacity. There are 2 types of biomass pellet mills: flat die pellet mill and ring die pellet mill. Compared with flat die pellet mill, pellet mill with ring die has much large productivity as 500-2000kg/h, which means you can set up a complete pellet plant with a ring die pellet mill!
2. It is labor saving. A complete ring die pellet mill plant only needs 2-3 operators. Other procedures can be controlled by the electric control cabinet. This also saves production cost.
3. It can operate continuously. The ring die pellet mill adopts aerodynamics technology to reduce the temperature of the pelletizing chamber to around 90°C, which decreases the fault rate to almost zero.
4. It costs much lower than those made by European manufacturers. As you may know, China pellet mills are always cheaper than European made ones. Although they may not be as excellent as European pellet mills, the China pellet mills have much higher cost-effectiveness, and can be called best pellet mill.

Ring die pellet mill parts
| | | |
| --- | --- | --- |
| | | |
| Ring die | Roller shell | Roller assembly |
| | | |
| Press cover | Eccentric shaft | Bearing |

Besides the above mentioned features, our ring die pellet mills also have many technical advantages:
The key parts pellet mill ring die and roller are processed by heat treatment, which makes them much stronger, as a result, they can be used to produce as high as 800-1000MT biomass.
The bearing is imported, which guarantees better transmission, less noise and stable operation.
It uses the improved U type screw conveyor. Its adjustable feeding speed allows for continuous feeding without blockage.
It is driven by high precision gears.
The
ring die pellet mill
made by our company has been used by many customers all over the world (see our
projects
) and won great reputation. If you are rightly looking for ring die pellet mill, we are your best choice!