Pellet machine for wood is the most widely used type because wood is the most popular biomass raw material and almost everywhere in the world has wood materials. Besides, wood pellets are the most efficient fuel compared to pellets made from other biomasses. As a result, most investors are looking for wood pellet machines now.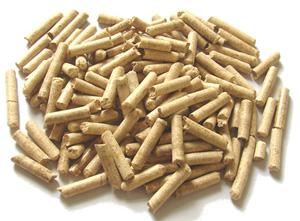 Wood pellet machine also can be called sawdust pellet machine, since even the raw material is wood chip, tree branch, wood shaving, logs, etc., they shall be crushed into sawdust before pelletizing.
Raw material for wood pellet machine
The pellet machine can process softwood as Korean Pine, White Pine, Spruce, Basswood, Cypress, etc.; and hardwood as Cypress, Elm tree, Hickory, Oak, Peach, Lignumvitae, Birch, Lucust, Aspen, Mono Maple, etc.
How does wood pellet machine work?
The wood sawdust is fed into the hopper of the wood pellet machine by a screw feeder, and then sawdust goes gradually into the pelletizing chamber. The pelletizing chamber is where the pellet machine roller and die sit. For different types of pellet machines, the roller or the die rotates to extrude the sawdust into the pellet machine die holes. Under great pressure, dense pellets are extruded out from the holes and cut by the pellet cutter.
Wood pellet machine classifications
Wood pellet machines in general can be divided into 2 types: flat die small pellet machine and ring die large pellet machine. The SMALL and LARGE not only refer to the size, but also the capacity.

| | |
| --- | --- |
| | |
| Small wood pellet machine | Large wood pellet machine |
Small pellet machines for sale range from 50-800kg/h. They have flat die or called flat plate. Small pellet machine is usually used for home, farms or small plants. The small pellet machine is convenient to use because of its compact size. Besides, the die-rotating type has 4 wheels that make it portable, mobile and can be used in any places: in the farm, at home, near the field, etc.
The small wood pellet machines can also be used in complete wood pellet plant together with auxiliary equipments like crusher/hammer mill, conveyor, dryer, cooler, pellet packing machine. If you do not have enough money, some unnecessary equipment can be taken out.
For processing different wood materials, you use different types of small pellet machines: softwood use D-type (die-rotating type); hardwood use R-type (roller-rotating type) which has greater pressure to meet the natural characters of hardwood. More read here.
Large wood pellet machines for commercial or industrial use can produce 500-2500kg/h. its main part Die is like a ring, so it is called ring die pellet machine. The ring die pellet machines are mainly used by middle or large scale plants that have large quantity of wood raw material supply and want to make wood pellets for sale, or make pellets for power plants.
The large pellet machine cannot be used individually because of its large capacity. So usually investors purchase large wood pellet plant instead of a single pellet machine.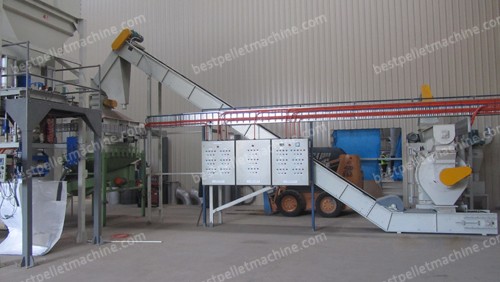 GEMCO successful wood pellet plants abroad.
Larger capacity means more investment, but also means higher earnings. So as long as you have enough funds and raw material supply, it is wise to establish large wood pellet plant.
Wood pellets specifications
Heat value: 13.6million Btu/ton
Moisture: 6%
Ash: 0.3%
Density: 40 lb/ft
2