It is widely recognized that green technology is the theme of this era. As a result, green energy is playing a key role. To replace traditional fuels as coal, gas or oil, biomass pellets have gained great market share in the world. Many countries that have abundant wood or agro wastes are using wood pellets. But in South East Asia and some other areas, oil palm fiber processed by palm fiber pellet machine has been a good source of pellets fuel.
Oil palm fiber is extracted from empty fruit bunches, that's why it is also known as EFB. The oil palm fiber contains about 43-65% of cellulose and 13-25% of lignin (a key component for the shaping of pellets without adding additives).
Palm fiber pellet has a high calorific value of 4300-4800kWhr/tonne, which equals to sub-bituminous coal and high density wood pellets.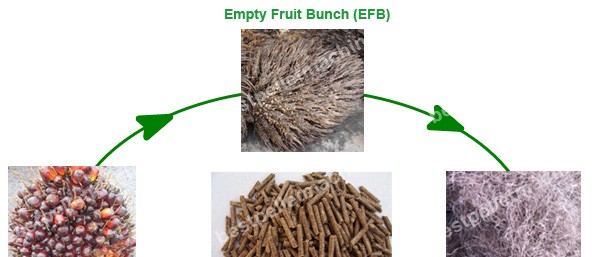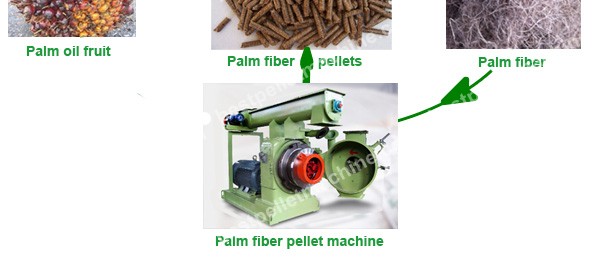 To make palm fiber or EFB pellets, the raw material goes the following steps:
1. Drying. Since palm fiber contains about 67% of moisture, which is much higher than needed for pelletizing, it should be dried first.
2. Crushing. The palm fiber is usually fibrous, so it needs to be crushed into short pieces before pelletization.
3. Pelleting. This step need palm fiber pellet machine/EFB pellet machine. Since it is usually palm oil plants that have abundant palm fiber for processing, the pelletizing plan is always designed with large capacity ring die pellet machine (1-2ton/hour). We have the pellet machine die with the right compression ratio to guarantee the best result of EFB pellets.
4. Cooling and packing. These two steps are the same as other materials processing.
The EFB pellets made out by our EFB pellet mill machine:
Have high hearing energy and efficiency;
Are easy to handle and store;
Are suitable for most boiler systems;
Generate low or even no smoke during combustion.
If you owe a palm oil plant or have large quantity of EFB palm fiber, we strongly recommend you to set up a palm fiber pellet plant. We will offer you satisfactory palm fiber pellet mill machines and most suitable project design.