On the first day after our Spring Festival Holiday, we received the pre-payment for a set of ZLSP300B R-type biomass organic fertilizer pellet machine from our new customer but old friend: the UNIDO (United Nations Industrial Development Organization).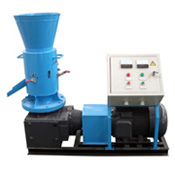 Why do we call UNIDO "Old Friend"?
It is because we have got to know each other ever since the beginning of 2013. At that time, we undertook the translation project from UNIDO for the dozens pages of bidding document, financial statements and other documents. Since then, our company had contacted with UNIDO for countless times.
Why do we call UNIDO "New Customer"?

It is because this is the first time they purchased our equipments. This is just a 6000USD trial order. The UNIDO aims at gradually help South American nations to use biomass fertilizer pellets to replace chemical fertilizer and realize green renewable new agriculture, which is also the goal of our company.
We confidently believe in the future, biomass pellets will become a necessity in many areas, and organic fertilizer pellet machines will be welcomed by all.