Biomass pellets production is now a hot industry because of their low price (compared to fossil fuels) and people's awareness of using more environmental friendly fuel. As a result, biomass pellets fuel has great market demand and is quite profitable.
Now there are many pellets production lines all over the world, but the pellets output still cannot meet demand. So, people who have access to biomass raw materials and distribution channel are aiming at setting up pellets production lines now. But as a matter of fact, not all of them are specialists in this field. Therefore, they need some guidance on pellets production. Take wood for example.
Wood pellets production process
Wood is a common seen pellet production raw material, which includes timber, logs, chips, shavings or sawdust of pine, acacia, cypress, beech, oak, and so on. Generally if your raw material is softwood, you can pelletize it without adding additive; if your raw material is hardwood, you need to add certain amount of softwood or binder (hardwood is comparatively difficult to pelletize).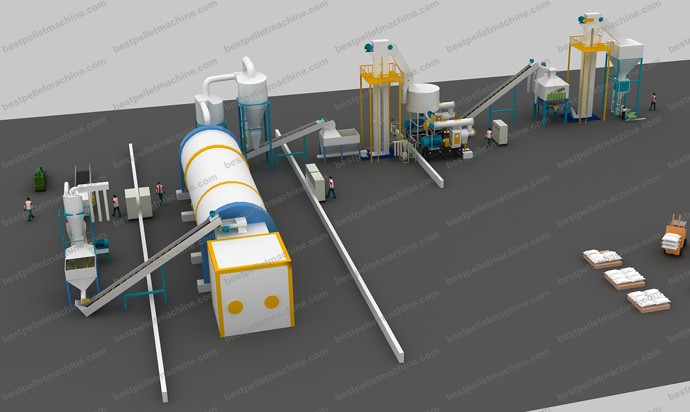 The wood pellets production technology goes this way:
1. Raw material crushing: usually wood chips, logs or timber, etc. must be crushed before pelletization. The reason is that these wood raw materials are large pieces and can't be pelletized directly. This process will need wood chipper and hammer mill.
2. Crushed material sieving: sometimes the raw materials have impurities like stones or metal scraps. These impurities will destroy the pellet mill. So they shall be sieved.
3. Drying: the sawdust usually contain much water. In this case, the dryer is indispensable. For capacity below 1ton/h, air flow dryer is enough. But for large capacity, drum dryer is good help.
4. Wood pellets production: the wood pellet mill also has different capacities. 50-500kg/h, use flat die pellet mill; >500kg/h, use ring die pellet mill or multiple sets of flat die pellet mill.
5. Pellets cooling and sieving: the pellets have high temperature when produced by the pellet mill; as a result, a cooler is needed to cool the pellets. Besides, the counter flow cooler can also sieve the broken pellets or raw material powder to get good quality pellets.
6. Pellet packing: to pack the wood pellets in bags will make them easy to store, transport and sell. They can be packed into small bags and large bags.
Above is whole wood pellets production line process, and
other biomass raw materials
go similar steps.
What do you need to consider before setting up biomass pellets production line?
You funds and budget: your budget determines the pellets production line scale. Sometimes you may want to set up a large scale one, but may not have enough funds. In this case, you can lower your capacity, or reduce some relatively unimportant equipment. It is not advised to replace the necessary equipment with low price and low quality ones, otherwise you will regret.
You workshop: in fact, the funds you have also determine your workshop size. The more funds you have, the larger workshop you can build. If you do not have workshop, you'd better build it near your raw material. This can save you a lot of raw material transportation cost. If you already have your own workshop, you shall tell us your workshop height, width and length, so that we can design the pellets production line depending on your workshop size. Otherwise your workshop may not be enough to place the equipments.
Conclusion
Setting up a
wood pellets production line
is always an important decision for many companies or investors. So the more you learn about it, the better it is. At GEMCO, you will find professionals who are specialized in pellets production field, and they can solve all your technical problems.